Gallery contains 25 images
Alumni Magazine, winter 2016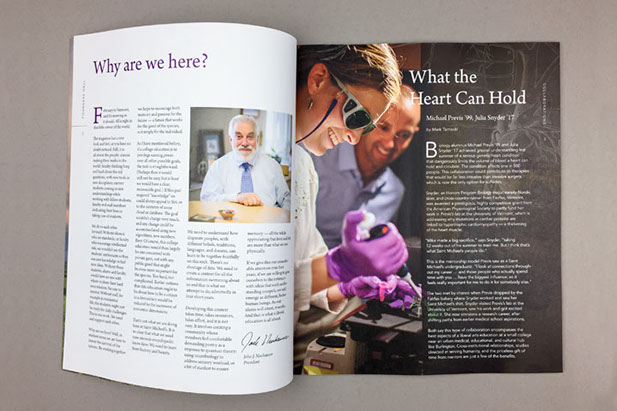 Alumni Magazine, winter 2016
Alumni Magazine, winter 2016
Alumni Magazine, winter 2016
Alumni Magazine, winter 2016
Alumni Magazine, winter 2016
Alumni Magazine, winter 2016
Alumni Magazine, winter 2016
Alumni Magazine, winter 2016
Alumni Magazine, winter 2016
Alumni Magazine, winter 2016
Alumni Magazine, winter 2016
Alumni Magazine, summer 2016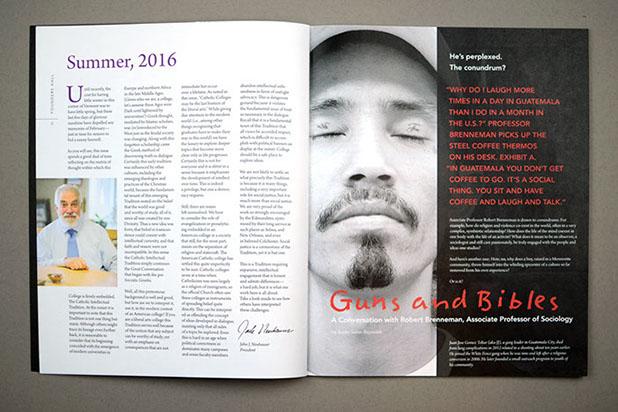 Alumni Magazine, summer 2016
Alumni Magazine, summer 2016
Alumni Magazine, summer 2016
Alumni Magazine, summer 2016
Alumni Magazine, summer 2016
Alumni Magazine, summer 2016
Alumni Magazine, fall 2016
Alumni Magazine, fall 2016
Alumni Magazine, fall 2016
Alumni Magazine, winter 2016
Alumni Magazine, fall 2016
Alumni Magazine, fall 2016
Saint Michael's College
The first two alumni magazines we designed for Saint Michael's College, winter and summer 2016, won gold in the 2017 CASE District 1 Excellence Awards.
Gallery contains 9 images
Dartmouth College
We listen very carefully to our clients' needs.
Dartmouth College Dean of Admission, Karl Furstenberg, wanted a viewbook that was "very honest, interesting and illuminating;" a book that would better prepare any reader whether they ended up at Dartmouth or not. He wanted the message about Dartmouth to be more subtle, by inference; he wanted multiple layers of meaning; a book that meant different things to different people.
Director of Admissions, Paul Sunde, writes, "Douglas Harp and his staff are focused on ideas and execution. Pride of ownership and ego were non-issues with him. His approach set the tone for the entire development team, and it set us all free. We were able to participate in a creative process that was truly collaborative—one that pushed our boundaries without pushing our buttons. We couldn't be happier with the experience."
On various Dartmouth projects, we've collaborated with writers Heather McCutchen and Harp and Company partner, Susan Salter Reynolds, and with photographers Tom Kates, Jon Gilbert Fox and Michael Seamans to create stunning, appropriately targeted communications.
The results (shown here): applications from the first group of prospective students to receive this viewbook increased 20%. And we've been working on major projects with them for nearly 20 years.
Gallery contains 18 images
St. Mark's School
We really do ask the right questions.
St. Mark's School was at an interesting, critical crossroads: with a new Head, the school had evolved well beyond its old, stuck-in-the-'70s image. The Admission team engaged Harp and Company to dig into the very soul of the school in order to write and design a viewbook that turned this damaging misperception around.
In the three viewbooks we have written and designed for St. Mark's, we collaborated with photographers Gabriel Cooney, Michael Seamans, and Robert Barker, with striking results. Drawings by Douglas Harp and smart, inspiring writing by Susan Salter Reynolds completed the picture.
Former Director of Communications Molly Ingram writes, "Your ability to really grasp what makes St. Mark's unusual totally came through in the viewbook. I can't wait for our next project!" And director of Admission Anne Behnke adds, "After my initial meeting with Doug, I knew he 'got it.' He knew exactly the look I wanted, the feel I wanted and where I was going with the message. Most importantly, there was not a timeline he and his team did not meet."
We've been working with the Admission and Development offices ever since.
Gallery contains 8 images
New England Culinary Institute
We have been change agents in our clients' branding and marketing communications.
New England Culinary Institute, other than putting its strikingly simple logotype on everything, was a rudderless ship as far as its brand was concerned. Print materials, the website, their voice, their messaging… all over the map.
Harp and Company was hired to turn that ship around, and so the long, steady arc toward a consistent visual brand and consistent messaging has begun. A notable departure from past marketing communications, which NECI has enthusiastically embraced, is that Douglas Harp now regularly includes his watercolors of fruits and vegetables, implements, etc.—and his humor—in brochures, advertising, and in NECI's new website, developed by Emerge Education.
Combined with Susan Salter Reynolds's crisp, enthusiastic, and often delicious writing, and the work of Vermont photographers Jeb Wallace-Brodeur and Caleb Kenna, these light, airy, very human drawings have become a corner post of NECI's new brand.
NECI's former Director of Admissions Dwight Cross writes, "Harp and Company are the most creative marketing professionals I have worked with during my career in enrollment management. Their energy on projects is fully present from the forming stage right through to the finished product."
Gallery contains 18 images
Admissions Viewbook and Search Piece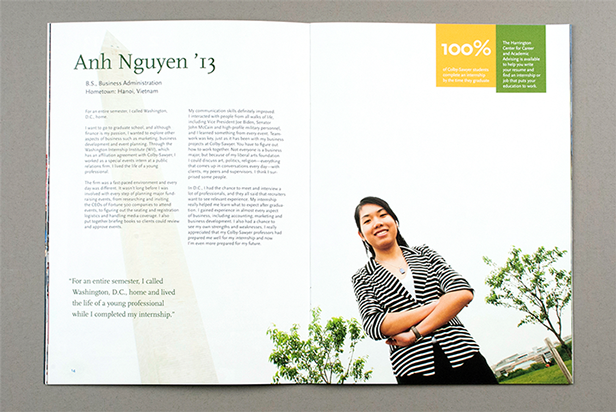 Graduate Success Stories Brochure
Gallery contains 13 images
Gallery contains 5 images
Dartmouth Medical School
Admissions Viewbook
Gallery contains 5 images
Johnson School at Cornell University
Admissions Materials
Gallery contains 5 images
New Canaan Country School
Admissions Viewbook
Gallery contains 7 images
Tuck School of Business
Admissions Viewbook